Clear and Brilliant Laser Treatment for Hyperpigmentation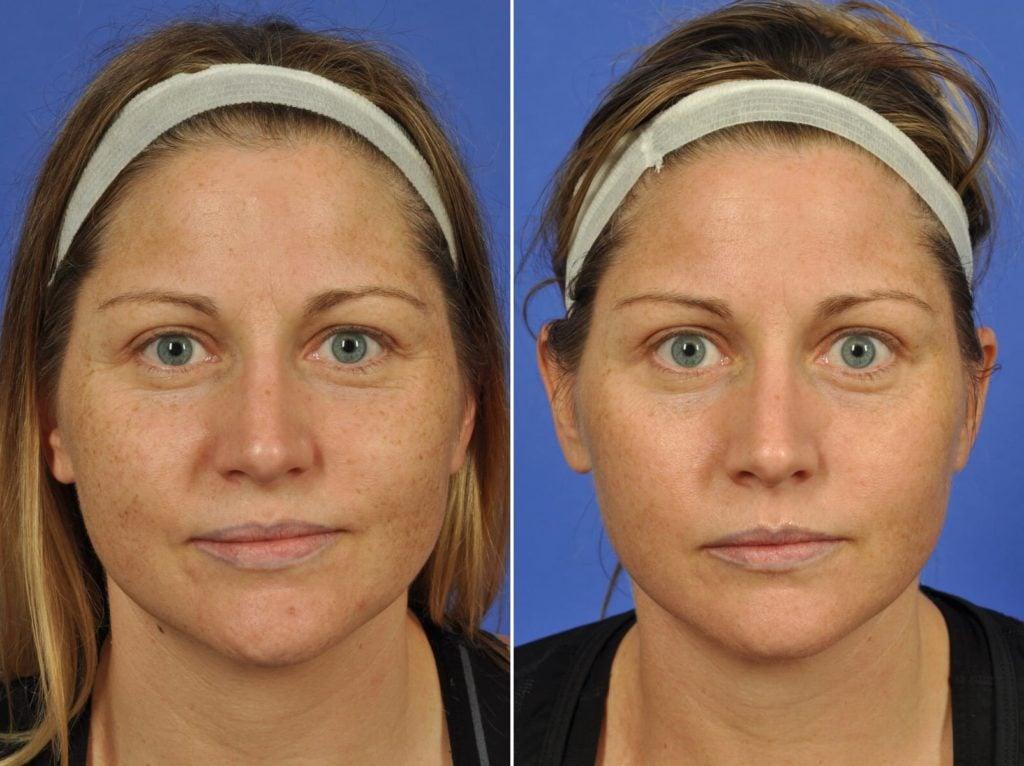 Table of Contents
Introduction
What is C&B Laser
What is Hyperpigmentation
C&B Laser and Hyperpigmentation
Benefits of C&B Laser
Risks of C&B Laser
Conclusion
Introduction
Hyperpigmentation is a common skin condition that affects most people at some point in their lives. It occurs when the body produces too much melanin, leading to unwanted dark patches on your face or body. Common areas for hyperpigmentation include the neck, chest, and arms - often exposed to the sun's damaging rays. These brown spots can also occur near hair follicles or sweat glands (such as those found on the forehead). Laser treatments are an effective way to combat hyperpigmentation because they work by targeting melanin-producing cells within the epidermis. Clear and brilliant laser treatment uses short pulses of light penetrating the skin with minor damage to surrounding tissue.
What is Clear and Brilliant Laser Treatment
In this article, we'll discuss a popular laser treatment called Clear and Brilliant. This is a non-invasive skin resurfacing treatment approved by the FDA to reduce the appearance of dark spots on your face, such as freckles and sun damage.
Clear and Brilliant is a clear-laser technology that uses safe pulses of light to penetrate your skin, causing it to produce new collagen and elastin fibres. The process also improves microcirculation in your skin, which leads to more even pigmentation over time. It's an effective non-surgical way to reverse signs of ageing!
Clear and Brilliant is safe for all skin types, including darker complexions. There are no known side effects, and the treatment only takes about 15 minutes.
What is Hyperpigmentation
Hyperpigmentation is when areas of the skin become darker than the surrounding tissue.
It's caused by an increase in melanin, a pigment that gives skin its colour.
Hyperpigmentation can be genetic or due to sun exposure (widespread exposure during childhood), acne, or trauma. The latter usually leaves behind a brown spot that fades over time.
While hyperpigmentation isn't a disease, it can be a symptom of conditions such as melasma, post-inflammatory hypopigmentation (when dark spots don't fade after injury or inflammation), and lentigo senilis (sunspots).
Hyperpigmentation is usually temporary and can be treated with various treatments, including chemical peels, lasers, and topical products.
Is Clear and Brilliant laser good for Hyperpigmentation?
Clear and Brilliant is a good option for treating hyperpigmentation. Clear and Brilliant uses a laser to treat skin discolouration from sun damage and ageing. The laser light targets the melanin (skin pigment) in the affected areas, which can help reduce or eliminate hyperpigmentation.
It's important to know that Clear and Brilliant is not invasive but non-invasive and safe. If you have any questions about your skin, talk with your dermatologist about what treatments might be best for you!
Clear and Brilliant is a safe and effective treatment for hyperpigmentation. It uses light energy to target melanin in the skin, which can help reduce or eliminate the discolouration. If you have any questions about your skin, talk with your dermatologist about what treatments might be best for you!
What are the benefits of a Clear and Brilliant Laser?
You can expect to see a dramatic improvement in your skin. Clear and Brilliant will eliminate the appearance of age spots and sun damage, leaving you with smooth, glowing skin.
It's non-invasive. There's no downtime associated with Clear and Brilliant treatments, so they're ideal for busy people on the go who want to look their best without having to worry about their face turning into a red mess while they're out and about running errands in between treatments.
Your results last longer than other treatment methods like chemical peels because it only targets melanin production at the surface layers of your skin instead of removing tissue itself, as many other procedures would do (such as lasers or dermabrasion). This means there may be less risk involved with complications such as scarring or infection—and if there are any unpleasant side effects from one treatment session, then you'd move on to another until you get exactly what you want!
What are the risks?
The risks of Clear and Brilliant laser treatment for hyperpigmentation are:
Skin damage and scarring
Infection of the skin could result in permanent changes to your skin colour.
Permanently darkening of the skin pigmentation, which can last for years after you stop having treatments. This may mean that you must be careful with sun exposure or UV rays from tanning beds.
You can also find other treatments for hyperpigmentation, such as Creams and lotions for dark spots and discolouration. These products are usually sold over the counter (OTC). A dermatologist or other skin care specialist can help you find one that's right for your needs. You may have to try several before finding one that works well.
More people are using Clear and Brilliant for hyperpigmentation, which is the darkening of some areas of the skin.
More and more people are using Clear and Brilliant for hyperpigmentation, which is the darkening of some areas of the skin. This can happen for various reasons, but it's usually related to sun damage. The good news is that Clear and Brilliant laser treatments are safe and effective. They've been used in thousands of procedures since they were introduced in 1999.
Clear and Brilliant can be used on any area where there's hyperpigmentation, including your face, neck, chest or hands. If you have an uneven skin tone or unwanted freckles around your nose and cheeks (or anywhere else), this treatment might be proper for you!
It's important to note that while most people think they must go outside during summertime to get rid of their brown spots before turning into age spots on their faces, that isn't entirely true! No matter what time of year it is when you decide to schedule an appointment with us here at Self Care LA – we'll make sure that every step goes smoothly. Hence, everyone leaves happy (including ourselves!).
Conclusion
In conclusion, Clear and Brilliant laser treatment is an excellent option for treating hyperpigmentation. The procedure is quick and painless and can be done in the comfort of your home. It's important to always consult with a professional before trying any new treatment or product, but this one becomes increasingly popular as time goes by!
Is Clear and Brilliant Laser right for me?
To learn more about C&B laser and to find out if it is right for you, please consult our board-certified specialists at Self Care LA.
As the leading boutique aesthetic spa & body contouring specialist located in Santa Monica, CA, we have a team of highly trained, certified, and skilled aestheticians and doctors.
We will work with you to customise a treatment plan to give you the best results possible.
Contact Self Care LA today at (323) 337-3445 or click here to schedule a consultation.
About Us
Self Care LA is an aesthetics and injectables practice offering the latest cosmetic treatments in Santa Monica, California. Led by board-certified physician Bharat Kothakota, MD, MPH, the course sees men and women for cosmetic goals related to their faces and bodies.
Self Care LA offers high-end cosmetic injectables such as Botox® and fillers and several types of microneedling to boost collagen production. Along with SkinPen®, patients can choose Morpheus8 radiofrequency microneedling or microneedling with platelet-rich plasma (PRP). PRP hair restoration treatments are also available at Self Care LA.